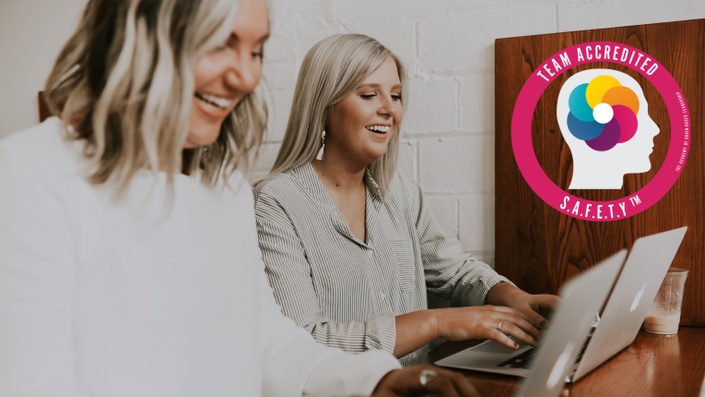 Team S.A.F.E.T.Y™ Debrief Workshop
Psychological safety; the key to happy, high-performing people & teams (in-person workshop)
Team S.A.F.E.T.Y™ Debrief Workshop
This workshop (from the Academy of Brain-based Leadership), is designed to enhance team productivity & collaboration by teaching team members how to respect and protect their own, and others, psychological safety needs. Using the S.A.F.E.T.Y™ assessment and support tools to create awareness, this half-day workshop will teach your team:
The impact of psychological safety on team performance
The non-conscious biases that drive their behaviors
Their individual S.A.F.E.T.Y™ profile and triggers
The benefits that different drivers bring to the team
How drivers impact our perception of others
The team's S.A.F.E.T.Y.™ and psychological safety profiles
The interaction of individual and team profiles
How to support their psychological safety
How to support one another's psychological safety
How to identify team actions to enhance team psychological safety
The workshop is particularly suited for intact teams, within:
Team development interventions
Team off-site meetings
---
The S.A.F.E.T.Y™ Model

Based on neuroscience research, the S.A.F.E.T.Y™ model describes 6 important social drivers of human behaviour and cuts to the heart of what creates most of our challenges, fears and stress. Understanding your drivers allows you to generate practical solutions to build and maintain psychological safety for yourself and others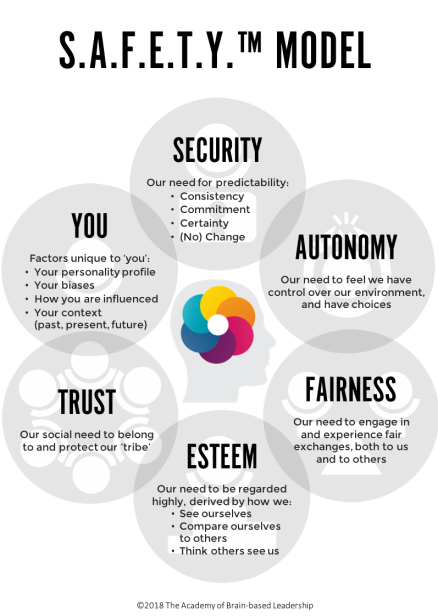 The S.A.F.E.T.Y™ Assessment

The assessment included in the workshop examines the first five of the six S.A.F.E.T.Y™ domains: Security, Autonomy, Fairness, Esteem & Trust. Results of the assessment indicate the importance you attach to each domain, your specific responses to situations and the potential impact of your profile on yourself and on others
---
What is Psychological Safety?
Psychological safety is a shared belief that the team is safe for interpersonal risk taking. In a psychologically safe climate, team members are not afraid to express themselves; they feel accepted and respected. This openness creates a fertile environment for thinking, creativity, innovation and growth and leads to more collaborative relationships and an overall improvement in team productivity. It can also help support resilience and well-being
Why is Psychological Safety Important?
Recent advances in neuroscience have revealed that a 'hit' to our psychological safety (through bullying or even simple perceived social rejections) can have a stronger impact on our brains than if we were punched in the face. When our psychological safety is threatened, our brain is triggered into a stress response which compromises our cognitive abilities. In this state our higher, logical brain goes offline, impacting our ability to think, be creative, make decisions and regulate our emotions
Research suggests that teams with psychologically safe environments have employees who are more trusting, less likely to leave, more likely to harness the power of diversity and ultimately, are more successful
More information on S.A.F.E.T.Y™ and the Academy of Brain-based Leadership
---
Contact us: Please use the Contact Form or Email us to discuss your requirements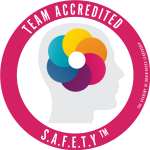 Your Instructor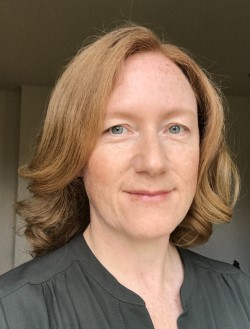 "I design the courses that I wish I'd taken at the start of my career"

Since working as a learning designer & trainer at General Electric (GE), Debbie now specialises in virtually delivered, mindful leadership and brain-friendly ways of meeting & working. She has delivered hundreds of mind-at-work webinars. ThinkingSpace.training combines mindfulness, the brain at work and presentation skills to create virtual training to help individuals and their teams present better, connect more and manage life & change, through simple, bite-sized, eLearning and interactive, brain-friendly team workshops & webinars.
Debbie has an Executive Masters (Dist) from the Institute of NeuroLeadership, is an accredited Team SAFETY™ debrief facilitator (the Academy of Brain-based Leadership), a 'Time to Think' Thinking Environment® Transforming Meetings trainer and a Cognitive Behavioural Hypnotherapist. She is an international conference speaker on topics such as digitally supported neuro-management, mindfulness at work, inclusion & belonging in the workplace & overcoming the fear of speaking. She lives near Cambridge, UK. www.linkedin.com/in/debbie-jeremiah
Frequently Asked Questions
Who delivers the workshop?
The workshop is delivered by Debbie Jeremiah, accredited by the Academy of Brain-based Leadership to deliver the Team S.A.F.E.T.Y™ Debrief Workshops and 1:1 S.A.F.E.T.Y™ coaching debriefs for individuals
What locations can the workshop be delivered in?
The workshop is currently available throughout the UK. Please email to discuss other locations
Can the workshop be delivered to a virtual intact team?
Yes. Please email to discuss a virtual delivery
Can the workshop be offered as part of a leadership development program?
Yes. Please email to discuss your requirements
Do you offer Train the Trainer?
Please contact the Academy of Brain-based Leadership (link shown above) for details of training and accreditation
What resources does the workshop include?
The workshop includes the S.A.F.E.T.Y™ assessment (pre-work), a reference guide and the Psychological Safety (Radecki & Hull) book
What is the maximum group size?
To provide for effective team discussions, the ideal group size is 4-16. For larger group sizes, please email to discuss
Do you offer individual 1:1 debriefs or coaching?
Yes, for an individual, simply book on the separate course. For multiple individuals, please email to discuss